"One Singular Sensation" with the Joffrey Ballet School and New Jersey City University
A Chorus Line - Coming to the Stage March 2023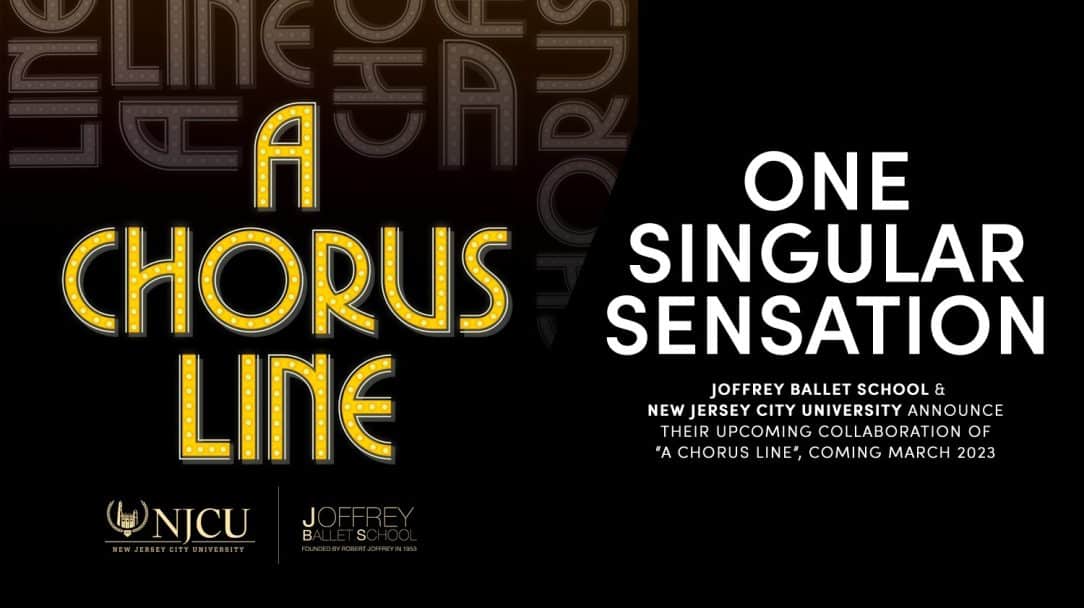 Last updated on January 19th, 2023 at 09:46 am
New York City, NY (November 13, 2022) – New Jersey City University (NJCU) Music, Dance and Theatre Department, together with the Joffrey Ballet School, announce their Spring 2023 collaboration of "A Chorus Line". Seven performances will bring this Broadway classic to the New Jersey stage in March 2023 at NJCU's Margaret Williams Theatre in Jersey City.
Director Marc G. Dalio and Choreographer Angelica Stiskin will honor the original score and groundbreaking choreography in this 2023 production, while also highlighting our post-pandemic reality. Dalio, Area Coordinator of Musical Theatre Studies at NJCU, describes "the chorus line – those inspiring, hard working performers, just out of the spotlight – are the ones who carried Broadway out of the worldwide pandemic and remain the very life force behind continued successful productions."
Stiskin, Artistic Director of the year-round Jazz & Contemporary Trainee Program at the Joffrey Ballet School, adds "the story of A Chorus Line is one of strength, determination and the drive to chase a dream. We can all connect, audience and performer alike, on a new level after we watched our world change during these past two years."
Performances will feature students from New Jersey City University and Joffrey Ballet School, sharing the story of sixteen hopefuls in their final, grueling audition for a new Broadway musical. A Chorus Line marks the second consecutive year of artistic collaboration between the two schools, after the launch of the Joffrey-NJCU partnership which allows students the opportunity to pursue a B.F.A. in Dance.
Rehearsals for the production will begin in December 2022. Stay tuned for further announcements on the cast and creative team. Tickets will go on sale in February 2022 at www.njcu.edu/arts.
Facts and Credits:
Conceived and Originally Directed and Choreographed by: Michael Bennett
Book by: James Kirkwood and Nicholas Dante
Music by: Marvin Hamlisch
Lyrics by: Edward Kleben
Co-Choreographed by: Bob Avian
About the Joffrey Ballet School:
Robert Joffrey and Gerald Arpino founded the Joffrey Ballet School in 1953. In more than sixty years of existence, the Joffrey Ballet School has remained on the forefront of American dance education. Graduates of the School have gone on to dance for major ballet companies, as well as for numerous modern and contemporary companies, both in the United States and abroad. The Joffrey Ballet School programming includes intensive pre-professional training, after-school programs, summer intensives in a variety of genres and open classes for enthusiasts and professionals.
The Joffrey Ballet School's renowned Trainee program offers a well-rounded pre-professional curriculum consisting of two tracks (Ballet and Jazz & Contemporary) for dancers ages 13 to 25.
About NJCU:
New Jersey City University is an institution of higher learning with an audacious goal: the development of our students, our city, our communities, our state, and the world beyond. We are a game-changing force for our students and their families. Whether our students are enrolled in one of our 50 undergraduate, 28 graduate or three doctoral programs, NJCU provides an affordable, diverse environment, and an exceptionally supportive faculty—all of which prepares them to be critical thinkers in a global landscape. The Music, Dance and Theatre department at New Jersey City University, with its proximity to New York City, brings together internationally recognized and award winning musicians, actors, vocalists, composers, and dancers to provide students with a dynamic, exciting and relevant educational experience.