Candice Michelle Franklin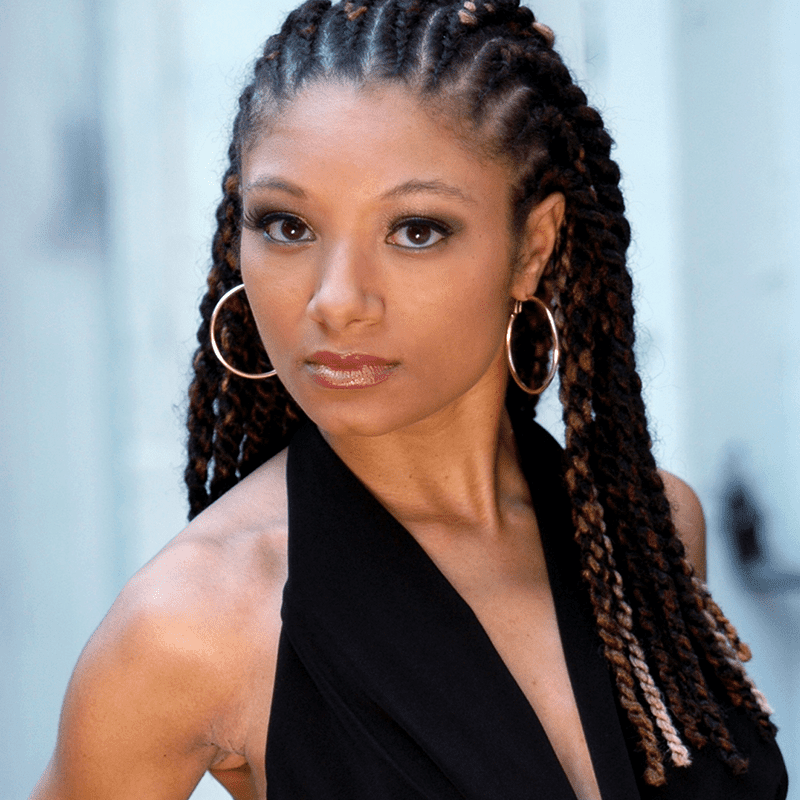 Originally from St. Louis, MO, born and bred into Jazz dance and influenced greatly by the Jazz music scene, Candice Michelle Franklin is a New York-based professional dancer, choreographer, and producer who has been seen in numerous film, TV shows, music videos, industrials, and, of course, on the live stage performing in plays and dance companies. She has a B.A. in Fine Arts majoring in Dance on four-year scholarship, studied on scholarship at Steps on Broadway, trained in St. Louis at Missouri Concert Ballet, and, upon invitation to New York, received her conservatory training at the Alvin Ailey American Dance Center. She owns The Pro DANZ Group, Inc. in which she oversees the dance and creative direction of several performance groups, recording artists, industrials, and stage shows.
Her work has been performed in a host of New York venues including Jacob Javitz Convention Center, The Syracuse OnCenter, Capitale, Odeum Expo Center, Broad Street Ballroom, Ailey Citigroup Theater, The Kumble Theater, Symphony Space, Brooklyn Academy of Music's BAM Cafe, Webster Hall, The SPACE at Westbury/Westbury Theater, Stage 48, the Oheka Castle, The Theater of Riverside Church, Marcus Garvey Park Amphitheater, The Sage Theater, American Theater of Actors, Tribeca Performing Arts Center, and Joyce SoHo, as well as numerous casinos on the east coast such as Turning Stone, the Foxwoods, Mohegan Sun, Tropicana, Borgata, and Caesar's. In addition, she has served as choreographer for over 15 years with CEG Productions LLC. as well as for a number of recording artists including internationally celebrated Bollywood Hip hop artist, SHAKTI, and Grammy award-winning recording artist, Macy Gray. Most recently, her choreography work has been commissioned by Pro Arte Dance with performances at the Kay Meek Center in Vancouver, Canada and Tiny Starr Productions at Symphony Space and has performed with the legendary master jazz pianist Onaje Allan Gumbs II's New Vintage.
A forever student, she is continuing her education in Latin Ballroom Dance technique under the DVIDA Syllabus at the Ballroom Dance Teacher's College in New Mexico and has just received her FULL Associate Certificate in the Rhythm Syllabus with a concentration on Mambo, Cha Cha, Rumba, Bolero, and East Coast Swing. Currently, Miss Franklin serves as choreographer for recording artist, ART AURÉ, tours as a Master Teacher/ Adjudicator Instructor for Joffrey Ballet School, and works as the producer and choreographer for Jazz Ain't Dead®, a live band, and dance production group. Miss Franklin is a 4-year Certification Candidate for the Katherine Dunham Technique, the Founder of iDANZ, Inc. (a 501(c)(3) Non-profit organization in Dance Advocacy), and a proud member of SAG-AFTRA.