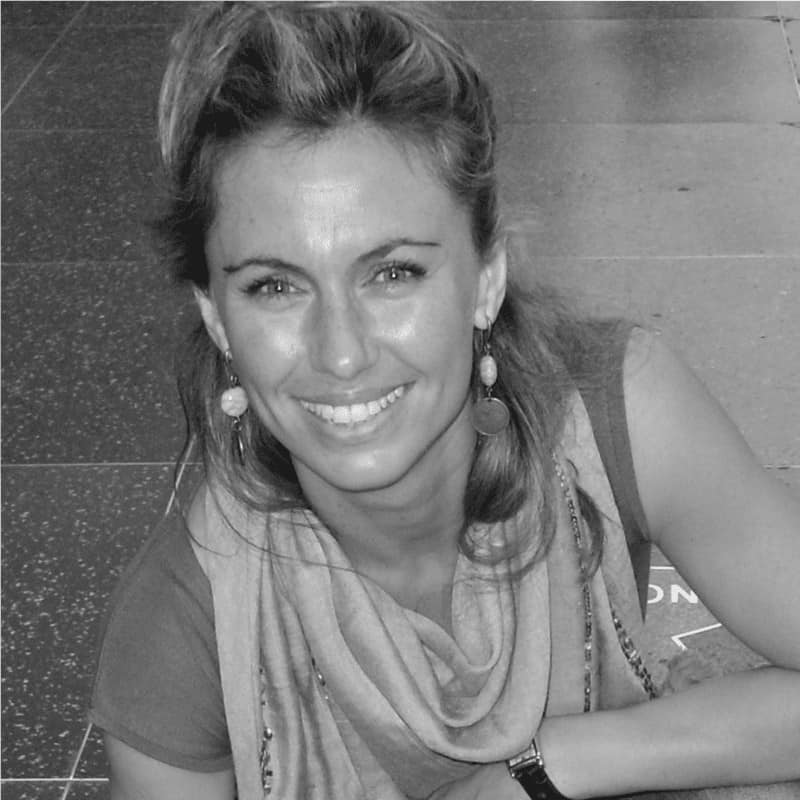 Africa Guzmán, ballet teacher, choreographer, artistic director of the Africa Guzmán Ballet School, teacher of the Classical Ballet Workshop of the Professional Conservatory of Dance Carmen Amaya in Madrid, Assistant Ballet Master of Nacho Duato ́s ballets. Africa Guzman was born in Madrid, Spain. She studies with her mother at Escuela de Ballet Africa Guzmán and Escuela del Ballet Nacional de España under Lola de Ávila direction. As a student, Africa was awarded honors by both careers the Real Conservatorio Profesional de Danza de Madrid and The Royal Academy of Dance of London. Former Principal Dancer with Compañía Nacional de Danza under Maya Plisteskaya and Nacho Duatos ́s direction and the Netherland Dance Theater, Africa has a professional career of more than 20 years. She counts in her repertoire with a large number of ballets both classical and contemporary and has worked together with numerous international prestige choreographers. From Petipa, Balanchine, Fokine, Mendez, etc to Kylian, Forsythe, Ek, Naharin, Lightfoot and León, Van Manen, Elo, Inger, Prejolcaj, and many more. Africa had a long career with CND and has played an integral role in a multitude of Duato's work from 1990 to 2010. As one of Duato ́s muses Africa has been a pivotal dancer in both the creative and performance processes. In 2000, Africa presented her first choreographed work in Madrid for the Choreographic Workshop of Compañía Nacional de Danza. Since then she has created pieces for Ballet
West for the National Choreographic Festival in Salt Lake City, with a preview of this ballet Sweet and Bitter at the Joyce Theater in NYC, the Alvin Ailey School in New York City, Joffrey Ballet School in New York and San Francisco, and the Conservatorio Profesional de Danza Carmen Amaya and Ballet Joven Africa Guzmán in Madrid. Ms. Guzman is a ballet master and assistant of Nacho Duato ́s Works staging ballets all around the globe. Africa was invited to work with the Bolshoi Ballet Academy in Moscow.
Ballet Nacional SODRE in Montevideo, the Oklahoma City Ballet in Oklahoma, the Finnish National Ballet in Helsinki, the Hubbard Street Dance Chicago in Chicago, the Mijhailovski Theater in Saint Petersburg.
As a guest teacher she has been invited to teach to the Ballet Nacional SODRE in Montevideo under the direction of Julio Bocca, to The Academy of Performing Arts in Prague, the School of Oregon Ballet Theater in Portland, the Joffrey Ballet School and Peridance Capezio Center in NY and San Francisco and with the New York Dance Project in Sydney Africa's talents have led her to perform on stage as well as on film. In 1999 she filmed several episodes for Spanish television (TVE) series "Step to step with
Nacho Duato"; in 2000 she filmed the DVD "Three by Duato", in 2004, she filmed for Dutch television (NPS) "Kerst met het NDT"; and in 2010, she filmed the documentary "Nacho Danse la Danse" by Alain Deymier. Africa has been invited in the 2018 and 2019 edition to be part of the reality show FAME TO DANCE as the ballet teacher and choreographer, broadcast live on the television network #Cero of MoviStar and the YouTube channel that the program has.