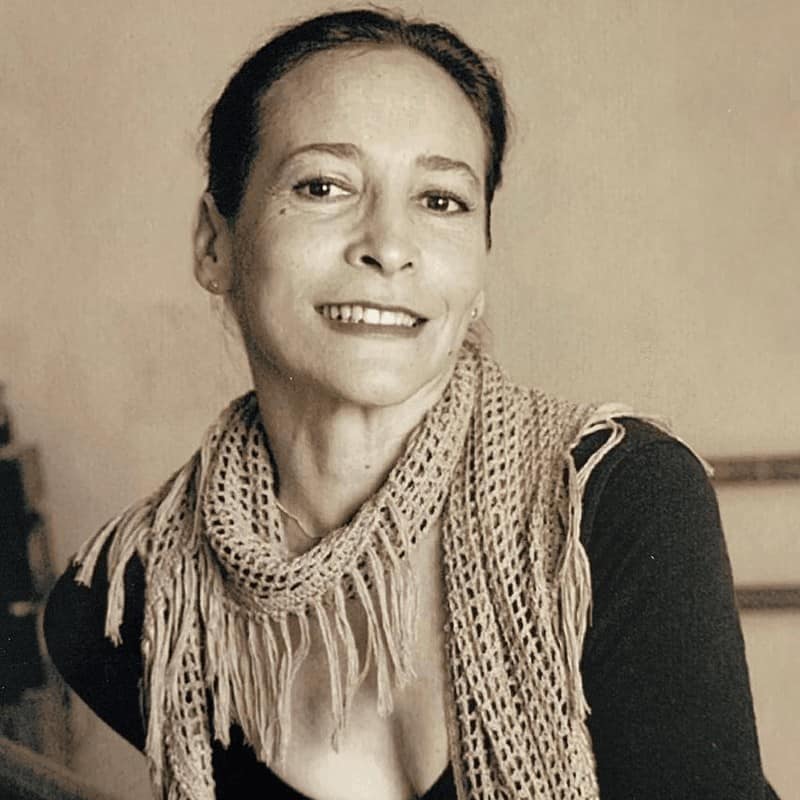 Regarded in Cuba as the greatest and most popular ballerina of her generation, Rosario Suarez was universally known for the profound artistry, versatility, and innovation with which she performed ballet repertoire. Among her many achievements, Rosario won the gold medal at the International Ballet Competition in Varna, Bulgaria in 1970. Over a remarkable twenty- seven year career with the National Ballet of Cuba, she performed principal roles in over 50 countries, to worldwide critical acclaim. In 1991, the Cuban Ministry of Culture awarded her with La Orden Por La Cultura Nacional, recognizing and honoring her artistic achievements.
Born in Havana, Cuba, Rosario began her ballet training at the Province Ballet School, then continuing her studies at the National School of the Arts, with teachers Joaquin Banegas, Fernando Alonso, Alicia Alonso, Menia Martinez, Ramona De Saa, Jose Pares, and Karemia Moreno. When Rosario was only fifteen years old, Fernando Alonso, the director of the National Ballet of Cuba, invited Rosario to join the Company, thus launching her nearly three-decade professional career, which included a fifteen-year tenure as Principal dancer. Rosario was also a principal dancer of Ballet Theater of Havana, under the direction of Caridad Martinez.
Rosario's performances in Coppelia, Swan Lake and Giselle have brought her the highest acclaim. However, her roles in works by Cuban choreographers, such as Tarde en la Siesta and Rara Avis, were performances that have also been said to have set the standard for future generations of dancers.
Rosario's interpretation as Odette-Odile in Swan Lake at the Theater of Les Champs-Elysees in Paris in 1983, was a highlight of her career, as well as her interpretation of The Sylphide and The Scotsman at the International Cervantine Festival in Guanajuato, and Giselle, at a historic performance at the Teatro Albeniz in Madrid, which brought roaring audiences to their feet. At that time, Rosario established herself as an artist in Spain, participating in a number of festivals and teaching throughout the city. In 2000, at the debut of Anna Pavlova: Diálogos del Alma, within the setting of the Dance Festival of Madrid, she performed the famous Death of the Swan by Fokine. While in Spain, she worked at the Conservatory Real in Madrid alongside Virgina Valero, as well as with Victor Ullate, Goyo Montero, Juan Carlos Santa Maria, Raul Cardenes and Ramon Oller, and many others.
Rosario's career brought her to Miami, where she served on the faculty at New World School of the Arts, under the direction of Daniel Lewis. She then established her own company, Ballet Rosario Suarez, and an affiliated dance academy dedicated to the preservation of the Cuban Style of Ballet. In 2002, she created her first choreographic work, Cecilia Valdes, with great success. Her final performance took place in Miami in 2010, as the star of the ballet theater production "La Ultima Funcion," based on a poem by Abilio Estevez and directed by Lilian Vega. In 2012, Rosario was named one of the top 100 Latinos in Miami with the greatest cultural impact. Rosario's career also took the form of film appearances, as she was featured in a documentary directed by Marisol Trujillo, Mujer Ante el Espejo, inspired by the experience of maternity of ballerinas; a short for the School of Cinematography, Two Gladys For You, directed by Aaron Yelin; a documentary about Pablo Neruda, and Stolen Verses, by Orlando Rojas. She appeared extensively, via modern interviews and archival performance footage, in a documentary of her own life, directed by Orlando Rojas, Queen of Thursdays, which won the award of Best Documentary at the Miami Film Festival.
Rosario is recognized as a versatile interpreter who builds her characters around expressive musicality. Her constant search for freedom throughout the course of her career has inspired her work, and she is an artist and performer who has reached critical acclaim, winning over the hearts of audiences all over the world. In 2008, Rosario joined the Miami Conservatory/Thomas Armour Youth Ballet, where she trained future generations in her role as Ballet Mistress. She continues to travel and tour as a teacher and coach for students internationally. Behind Rosario's fame, experience, and technique is an unbridled passion to affect change in her students and help them unearth their full artistic potential.