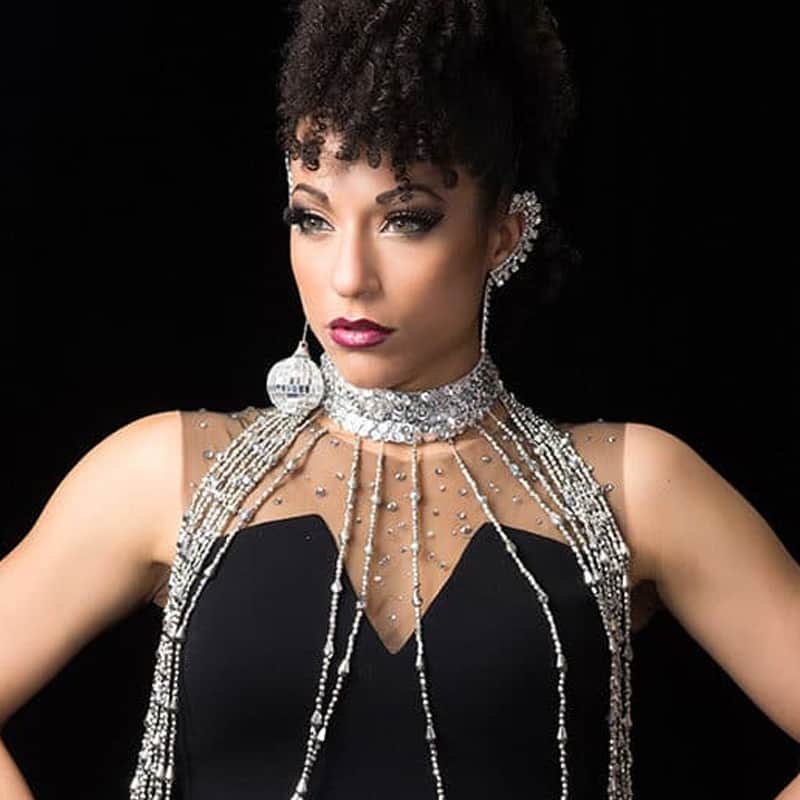 Born and raised in New York City, Princess Lockerooo is a multi-faceted performance artist, with talents encompassing choreography and artistic direction & music production for stage and film, costume and makeup design. This dynamic diva has been an advocate of bringing the popular and expressive 1970s disco era dance style Waacking back into the spotlight.
A student of the Legendary Soul Train Dancer Tyrone Proctor, Princess Lockerooo is a Waacking Specialist and emphasizes the freestyle element of the dance which encourages the development of each individual dancer to become a living embodiment of music. Her innovative and unique style of Propeller Waacking has thrilled audiences from all over the world since her showcase on So You Think You Can Dance (Season 8) and has inspired countless students throughout Asia, Europe, and beyond to study Waacking.
With a background and education in musical theater, Princess Lockerooo puts a theatrical twist on urban dance and has developed her own unique works that have been performed in NYC and across the world. Princess Lockerooo was most recently featured on the Wendy Williams Show and in the Icona Pop video, All Night, and has also performed in Dance For Madonna Smirnoff Nightlife Exchange Project and Billboard Live in Tokyo and Osaka with disco legend Jody Watley.
Princess Lockeroo has performed at Carnegie Hall with Hugh Masekela, Lincoln Center and Apollo Theater. Additional TV credits include America's Got Talent, TV Tokyo, and appearances on TV Programs in Thailand, Japan, Italy, and Russia. Her remarkable passion and enduring work ethic have lead to her teaching and judging in the biggest dance festivals across the world including SDK (Czech Rebublic), Fitness Brazil, Street Dance Intensive (Poland), MC Hip Hop (Italy), Open Dance Connect (Russia), as well as numerous other events across Japan, Hong Kong, Malaysia, Singapore, Indonesia, Thailand, Taiwan, Siberia, Finland, London, and Kazakhstan.
A favorite amongst many students, Princess Lockerooo continues to teach and share her passion for dance and Waacking at the best studios in New York City.