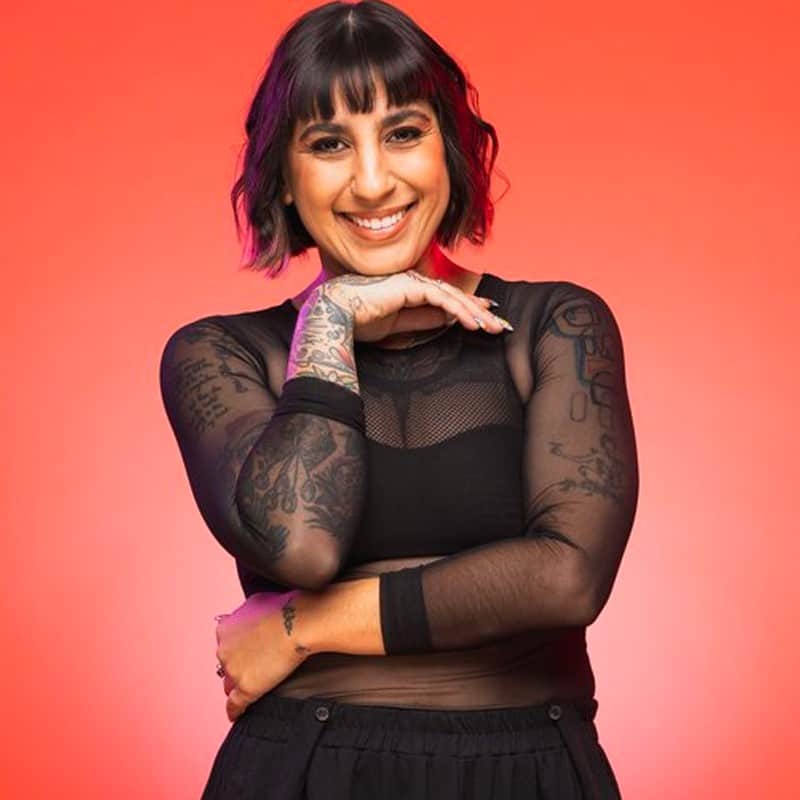 Cat Cogliandro (they/them) holds a BFA from SUNY Purchase and an MFA from Univerity of Arizona. They have worked with creators such as Cherice Barton, Phillip Chbeeb, Tyce Diorio, Ian Eastwood, Mike Esperanza, Hayden J Frederick, Janelle Ginestra, Jason Gorman,  Juliette Irons, Lukas McFarlane, Jaci Royal, Sophia Stoller, Megan Lawson, Sonya Tayeh, Andrew Winghart, and more. Cat has been featured in The New York Times, Dance Spirit Magazine, Dance Teacher Magazine, Dance Magazine, Dance Informa, and have been a guest on DanceSpeak Podcast, WeirdAdults, Barretender Podcast, Stance Elements, Real Talks, Dance Your Life by Maxt Out, and Move True. Cat was a featured dancer in the movie "Supporting Characters," directed by Daniel Schechter, danced in The Neighbourhood music video, "R.I.P 2 My Youth", directed by Hype Williams and supervising choreographer, Ian Eastwood, and danced and acted in Phillip Chbeeb's short film "Sync." They were the assistant choreographer to Ian in Trevor Wesley's Official 360 Music Video "Chivalry is Dead," a choreographer for an episode of "Alone Together" on Freeform, Eva Gutoski's (@mylifeaseva) music video "Dance As A Distraction," and was one of ten choreographers chosen to compete in Nigel Lythgoe's first season of a competitive choreographer show on Go90, Every Single Step, where they made it to the final four. In 2019, Cat danced the role of the Queen in Lukas McFarlane's "Astoria" which premiered at the Montalbán Theatre in Los Angeles. 
Cat is educator and choreographer who works nationally and internationally to "help people find a better understanding of themselves through dance." In the states, you can find them guest teaching classes at Broadway Dance Center, Peridance, Genesis, and on the road with HEAT Convention & Competition. Cat has taught at Hussian College (formerly Relativity School), The Joffrey West Summer Intensive, Joffrey Spectrum Summer Intensive, and The Los Angeles Dance Festival, as well as international dance camps in Brazil, Poland, Israel, Ukraine, India, and more. They have also teamed up with clinical psychologist, Dr. Christina Donaldson, to create a dance + self-esteem dance workshop called Soul Meets Body, and are also the co-creator, in collaboration with Gabriel Braga and Mariana Feitosa, of SoulSync, a self-love dance workshop that takes place in Brazil. Cat is the director of The Dance Safe, an organization that advocates for survivors of abuse in dance, with heavy focus on education and consultation for those seeking the creation of safer dance spaces.
Mx. Cogliandro is driven by a deep passion for art, expression, freedom, and love. They believe in living life authentically and inspiring others to do the same, particularly the youth, encouraging them to embrace their true selves fearlessly. As a passionate educator, dancer, choreographer, and advocate, Cat is dedicated to creating safer and more inclusive spaces within the dance community, promoting a culture of acceptance and empowerment. Their dance company, cat.astrophe!, also aims to promote the power and necessity of advocacy through art. With a unique choreographic style that combines quirky and powerful movements, Cat uses their work to address relevant social issues and challenge societal norms. Through their performances, they hope to spark conversations, provoke thoughts, and inspire positive change.
Photo by Justin Hartsaw, courtesy of HEAT Convention & Competition