Summer
at Joffrey Ballet School
JoffreyRED Contemporary Ballet Summer Intensive
The Joffrey Ballet School Presents
JoffreyRED Contemporary Ballet Summer Intensive
Ages:

8, 25

Dates:

July 4, 2022, July 15, 2022

Location:

Los Angeles, California

Format(s):

In-Person, Virtual

Housing:

Hampton Inn & Suites

Artistic Director(s):


Josie Walsh
Joffrey LA Contemporary Ballet Intensive, previously held in San Francisco, is our preeminent program for dancers ready to explore the world of contemporary ballet. This year, Artistic Director Josie Walsh will bring the intensive to Los Angeles, in an exclusive experience that shapes young dancers into artists.
Students will be encouraged to move in new ways and reach beyond the purely classical form of ballet. Daily ballet and pointe classes will enforce a strong technical base, in addition to classes and repertoire that support discovery and freedom within the technical form.
Our Master Faculty is composed of working professionals, instructors, and choreographers, prominent in the sphere of Concert Dance. These leaders in the field are ready to introduce students to  contemporary ballet with expertise, refinement, and mentorship.
Dancers attending both weeks of the program have the opportunity to join our performance and be a part of a new creation at the El Portal Theater on July 30th. Expand your classical technique into the realm of contemporary ballet with the Joffrey Ballet School.
Download The
Intensive FAQ
The Joffrey Ballet School has been operating in-person utilizing Covid Safety procedures since October 2020 without interruption.
The JoffreyRED Contemporary Ballet Intensive will be operated IN-PERSON in Los Angeles, California this summer. In the unlikely event of a government mandate which prohibits dance instruction, all students registered for in-person programming will be offered their choice of a refund (less registration and processing fees) or transfer to another program.
JoffreyRED Contemporary Ballet Summer Intensive
Artistic Directors & Faculty
Artistic Director

Master Faculty
Josie Walsh
Josie Walsh is the Founder, Artistic Director and Choreographer of BalletRED and the JoffreyRED Conservatory in Los Angeles. She is the Artistic Director of the Joffrey Ballet School summer intensives in Los Angeles, San Francisco and year round Ballet Director at the Industry Dance Academy in Los Angeles.  Josie has danced professionally...
Read More
---
JoffreyRED Contemporary Ballet Summer Intensive
What to Expect
Classical Ballet Technique
Improvisation/Composition
Progressive Ballet Technique
JoffreyRED Contemporary Ballet Summer Intensive
Instruction Formats
In-Person Instruction Details
Our studios are designed to welcome students back in-person safely, with social distancing, temperature checks, use of masks, limited class sizes, and frequent disinfecting procedures, based on the recommendations of Dance/USA Task Force on Dancer Health.
Tuition & Pricing
$699 Per Week
For 2 Weeks
$599 Per Week
For 3 Weeks or More
Housing
$157-$168 Per Night
Ages 12 and above
Housing is available and optional for this intensive.
Multiple Session Discounts Available.
Meal Plans
Available through the Hampton Inn & Suites
A meal plan is available and optional for this intensive.
In-Person Performance Fee
---
$125
One Time Fee
---
$50
Attending 5 Weeks or More
In-Person Tuition Deposit
---
$300
Deposit at Registration. Balance by June 1st, 2021
---
$25
Deposit at Registration. Balance by June 1st, 2021
In-Person or Virtual Options Available
Los Angeles, California
Our Joffrey Contemporary Ballet Summer Intensive will be held at:
The Industry Dance Academy
15040 Oxnard St, Sherman Oaks, CA 91411
Sherman Oaks/Los Angeles
Hampton Inn & Suites
Joffrey Ballet School has partnered with the Hampton Inn & Suites to provide discounted housing options for students and their family. The student/legal guardian must contact the hotel directly to make the reservation.
The Hampton Inn & Suites is located in Sherman Oaks and is only a 4 min drive or 15 minute walking distance from the studios.
The price per room for JBS students will be $157 (plus tax) for room and breakfast and $168 (plus tax) for room, breakfast and dinner. The hotel will add additional fees per person to accommodate for housekeeping and meals, if more than one person stays in the room. Dinner is optional. The rooms are either single or double occupancy for the same price. If you plan to attend the program with a friend or you would like us to match you with a roommate, you will be able to split the cost of the room. 
JBS will have a live-in staff member at the hotel for those parents who wish to have their dancer supervised during their stay as if they were staying in one of our dormitories. This is an optional add-on service. The fee for the service is $150 per week per student. For those who have paid the fee, JBS staff will be available to students and parents 24 hours a day while they are staying in the hotel. 
Students traveling alone who are interested in having a roommate should contact the Director of Residence Life, Hanro Janse van Rensburg (hanro@joffreyballetschool.com ) to have themselves placed on the roommate request list. The Director of Residence Life will do their best to match you with another student.
All of our students also enjoy access to our student life programs and events. The events include site tours, world class workshops, trips to Museums and Dance productions. *All events are contingent on availability and the COVID-19 pandemic.
Hampton Inn & Suites
5638 Sepulveda Blvd
Sherman Oaks, CA 91411
(818) 785-2211



JoffreyRED Contemporary Ballet Summer Intensive
In-Theater Performance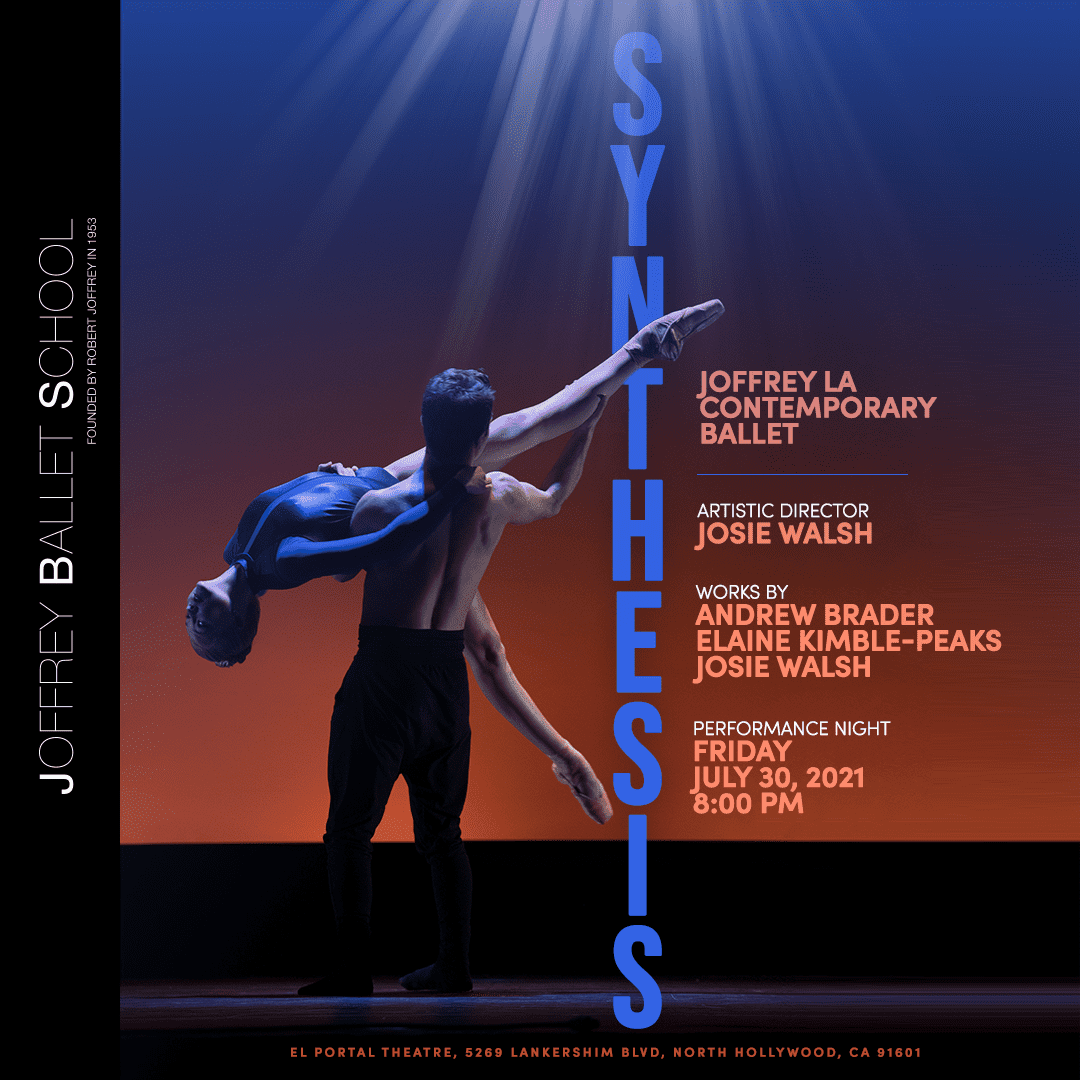 Synthesis
Joffrey LA Contemporary Ballet presents "Synthesis" our culminating performance of original works created on our talented students from around the country by our world class choreographers
Location: El Portal Theatre 5269 Lankershim Blvd, North Hollywood, CA 91601
Date and Time: July 30, 2021 at 8pm
CLICK TO PURCHASE
YOUR TICKETS
Frequently Asked Questions